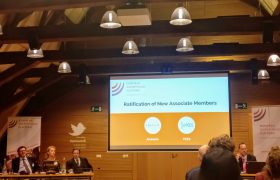 The European Microfinance Annual Conference, organised by the European Microfinance Platform (e-MFP), took place between the 14th and the 16th of November 2018. This year, the event witnessed knowledge sharing and discussion around technology, partnerships, trends and how institutions – both big and small – can cope with this fast changing context which is forcing changes to how the microfinance profession is traditionally carried out. Inclusive finance for refugee populations and financial education tools for underserved populations were also on the agenda and made for very interested insights and learning on initiatives taken in the Middle East and East Africa, respectively.
Amarante Consulting is proud to be a member of this esteemed platform which focuses on fostering activities that increase global access to affordable, quality, sustainable and inclusive financial services for the un(der)banked by driving knowledge-sharing, partnership development and innovation
The European Microfinance Platform (e-MFP), with over 130 members from all geographic regions and specialisations, is the leading network of European organisations and individuals active in the microfinance/financial inclusion sector in developing countries. Learn more at e-MFP.