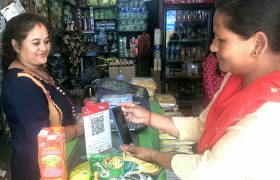 Superplatforms like Google, Amazon, Facebook and Alibaba are transforming the global financial marketplace with "big brands, big budgets and big data." As a "platform of platforms," a superplatform holds immense disruptive power and can pave the way for a new-generation financial sector, one with smarter payment and lending models and wider outreach. In Nepal, where the smartphone penetration rate is 75% and poised to reach 90% by 2025, homegrown platforms such as F1Soft and the eSewa digital wallet are driving significant adoption. They're doing this by providing:
A compelling use case for quick response (QR) codes to facilitate merchant transactions;
Incentives for consumers to engage in fully digital e-commerce transactions;
Aggregation of alternative data to facilitate credit access for the unbanked.
While challenges remain, local Nepalese superplatforms offer early insights into the potential to leverage this model to advance financial inclusion in the least developed countries.
Our Senior Consultant, Audrey Misquith, who is seconded to the UNCDF as a Digital Finance Services expert, co-authored this opinion piece about super platforms and their implications for Nepal on NextBillion. Read more about these insights here.