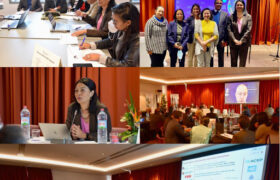 Considering the potential of technological innovations, the Central Bank of Madagascar ("BFM") has identified the development of Fintech as a priority to promote financial services in Madagascar. The field is vast and requires specific technical skills, so BFM has requested technical assistance from the World Bank to meet this challenge, particularly in the establishment of an appropriate legal and regulatory framework. In this context, The World Bank Group mandated Amarante Consulting to conduct a landscape study to:
Identify the fintech solutions operating or being implemented in Madagascar.

Understand the key factors that allow fintech solutions to exist and thrive.

Analyze common barriers in terms of regulation, infrastructure, business models, access to finance, identification systems etc.

Develop recommendations on how the main bottlenecks could be overcome.
The World Bank and BFM organized a workshop where Manohisoa Boulier, Regional Manager Francophone at Amarante Consulting, shared the results of the studies carried out and to provide a platform for exchanges between all the fintech sector players in Madagascar, including start-up fintech companies and various digital financial service providers (MFIs, banks, telecom operators).