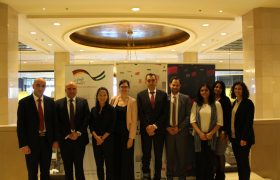 On Wednesday 23rd of January, Amarante co-facilitated a session organized by GIZ, in order to share insights and impact created as a result of their 2 year partnership with a Jordanian start-up, Dinarak. Under the umbrella of its Digi#ances program, GIZ selected Dinarak as a private sector partner in order to achieve development objectives such as offering access to financial services, via digital channels, to refugees, low income Jordanians and women in the country.
One among five payment service providers in the country, Dinarak obtained an approval from the Central Bank of Jordan in 2016 and since then has been making its way through the challenges and evolutions in Jordan's dynamic payment, economic and socio-demographic market context. The young company has many laurels to its name; besides winning the bid for the GIZ Digi#ances private sector partnership project, it also recently won the 'Financial Inclusion Initiative of the Year' award by Fintech Galaxy, the MENA region's only fintech digital crowdsourcing platform, in recognition of the achievements of innovative institutions and start-ups in the fintech ecosystem and to celebrate excellence in the financial technology sphere.
"It's not CRS for us but it is in our DNA to cater to marginalised populations", said Imad Aloyoun, CEO of Dinarak. On GIZ side, this closing event was expressed as "bitter sweet", given the accomplishments of the collaboration, but also the fact that the event brought this co-funded partnership to an official close.
GIZ Digi#ances program and its commitment to facilitate financial inclusion and overall development in Jordan will continue on in 2019. There are multiple focus points on the table: Closing the gender gap, financial literacy, cross border remittances, digital financial services for refugees and low income Jordanians, among others.
Amarante was contracted by GIZ in order to evaluate the success of the GIZ-Dinarak partnership as it came to a close towards the end of 2018.
Stay tuned to learn about our findings in an upcoming report.