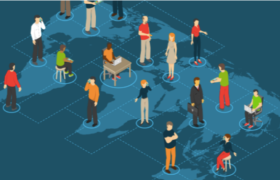 (La version française ci-dessous)
Dear clients and colleagues,As the impact of the coronavirus grows daily, we at Amarante Consulting are fully committed to doing our utmost to minimize any disruption and continue to deliver on commitments to our clients. To this effect, we are putting in place a few key actions:
We are placing a greater reliance on virtual spaces where people come together. We have invested in tools to facilitate virtual collaboration among our teams and manage virtual communication channels both internally and with our clients. This includes building the capacity of our consultants to enable them to facilitate virtual meetings while employing strong project management framework adapted for remote functioning. This is where technology meets soft skills and rigorous organization!
We continue to work with our network of partners and consultants both in-country and across borders to support our clients and take action locally. To ensure maximum effectiveness, we are focusing on customizing our services and support to best suit our client's needs in these atypical times.
While we reinforce our remote & in-country support, we are very aware of the support that small business and under-served people would need in this time and the potential impact on local economies. For this reason, we have come together with like-minded impact driven companies to pool in our cross-sector expertise, and create a think-tank to respond with solutions for immediate needs and business continuity. Among our thought leaders and key experts we cover thematics related to MSMEs, gender lens, digital innovation, finance and youth and entrepreneurship.
In these unprecedented times, we turn to collective responsibility and commitment for rapid and sustained response. On our modest scale, we want to make our contribution to ensure support to our partners, clients and communities.
We look forward to being in touch and continuing to collaborate.
Warm regards,
Amarante Team
______________________________________________________________
Chers clients et collègues,
A mesure que l'impact sur le monde du coronavirus augmente, de manière quotidienne, nous, chez Amarante Consulting, sommes pleinement engagés à faire tout notre possible pour minimiser toute perturbation et continuer à respecter nos engagements envers nos clients. À cet effet, nous mettons en place quelques actions clés :
Nous accordons une plus grande importance aux espaces virtuels qui facilitent les échanges à distance entre personnes. Nous avons investi dans des outils destinés à faciliter la collaboration virtuelle entre nos équipes et à gérer les canaux de communication virtuels, tant en interne qu'avec nos clients. Cela inclut un renforcement des capacités de nos consultants pour leur permettre de faciliter les réunions virtuelles tout en employant un cadre de gestion de projet solide adapté au fonctionnement à distance. C'est là que la technologie rencontre les compétences relationnelles et une organisation rigoureuse !
Nous continuons à travailler avec notre réseau de partenaires et de consultants, afin d'assurer une présence locale là où cela est possible et ainsi soutenir nos clients et agir localement. Pour garantir une efficacité maximale, nous nous concentrons sur la personnalisation de nos services et de notre soutien afin de répondre au mieux aux besoins de nos clients en ces temps atypiques.
Bien que nous renforcions notre soutien à distance, nous sommes très conscients du soutien dont les petites entreprises et les personnes mal desservies auraient besoin en cette période et de l'impact potentiel sur les économies locales. C'est pourquoi nous nous sommes associés à des entreprises animées du même esprit pour mettre en commun notre expertise intersectorielle et créer un groupe de réflexion pour répondre aux besoins immédiats et assurer la continuité des activités. Parmi nos leaders d'opinion et nos experts clés, nous couvrons les thèmes liés aux PME, à la perspective de genre, à l'innovation numérique, à la finance, à la jeunesse et à l'entrepreneuriat.
En ces temps difficiles, nous nous tournons vers la responsabilité et l'engagement collectifs pour une réponse rapide et durable. À notre modeste échelle, nous voulons apporter notre soutien à nos partenaires, clients et communautés.
Nous nous réjouissons d'être en contact et de continuer à collaborer.
Salutations chaleureuses,
L'équipe Amarante
___________________________________________________________________________________________________________________________________________________________________________________________________________
___________________________________________________________________________________________________________________________________________________________________________________________________________