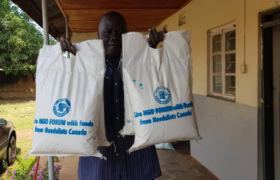 In 2019, well before covid-19, the world saw 202 natural catastrophes and 115 were man-made. Natural disasters resulted in $52 billion in losses and man-made disasters accounted for the remaining $8 billion in losses. 11,500 people worldwide perished or were missing in such disasters. Adding to this, the coronavirus pandemic has taken the world by storm since the end of 2019 and we are still facing the wrath of it. There is an ever pressing need to improve response systems, infrastructure and overall  living standards, . How we respond today is key to building community resilience and preventing deaths from these disasters  in the coming years. With new challenges in crisis and disaster response coordination, concerns over standards and accountability, there are new opportunities to mobilize the collective resources for relief management in non-traditional ways. 
NeedsList- who are they ?
NeedsList, is one such tech company that is building tools to power faster, more adapted and sustainable humanitarian action. The tools and software are designed to really address the growing era of crisis where we see increased occurrence of climate change, conflict, pandemics and health emergencies.
" Our tools and software are designed to really address this growing era of crisis where we are seeing climate change piled upon conflict piled upon pandemics and health emergencies and recognizing that governments, multilaterals and foundations, anybody who is in the coordination role, doesn't really have a good way to match needs to offers."- Natasha Freidus, Cofounder and CEO of NeedsList
In essence, NeedsList's software allows frontline workers to post and aggregate needs on the ground and match these with offers from the private sector,  NGOs and also from the larger humanitarian and public sectors.
The evolution of the organization:
NeedsList initially started as a marketplace during the European refugee crisis in 2016 where  frontline workers could communicate the needs from the ground to donors and other partners via the NeedsList platform. The use cases grew beyond refugees, and  in 2019, during the Hurricane Dorian crisis, NeedsList was approached by USAID who asked them if they could be a solution provider to streamline the process of connecting offerings by private donors to the needs of the affected population. That was the eureka moment for NeedsList. 
Today, the NeedsList software has been deployed in over 20 countries worldwide, directing over $2 million in resources to local communities. Their distributed team of six full-time and 4 part-time staff hail from the US, South Sudan, Argentina, Myanmar, the Philippines, and Brazil. NeedsList is a winner of the Humanitarian Grand Challenge, has been lauded by Fast Company's innovation awards, and has been featured in Forbes, PBS, and multiple other press outlets.
The company's main clients are governments, multilateral organizations and networks who they license the product to and these respective organizations then use the platform for matching demand and supply. For example, NeedsList is currently working with the Qatar Foundation who is using the platform to connect volunteers to needs around the country (remote volunteering). Hence, the software can be used not only for products, but for services as well. 
In the wake of the coronavirus, NeedsList is also partnering with Field Ready and Humanitarian OpenStreetMap Team to provide highly detailed maps of conflict-affected and rural areas, in order to better provide vulnerable people with access to key COVID-19 resources, including personal protective equipment ( PPE), healthcare supplies and medicines. This year they  will be expanding to Latin America as winners of the Juntos es Mejor challenge to meet the needs of displaced Venezeulans more efficiently.
NeedsList allows the two parties i.e. the donor/provider organization and the receiving parties (such as NGOs, on-ground workers etc.) to coordinate and facilitate the delivery. 

On RespondLocal, users can aggregate and match local needs with resources from community responders. Watch a demo
here
Vocal for local : 
NeedsList's focus is really around supporting local economies. Whoever is buying  the software promotes it locally so local businesses can come on board and be part of the ecosystem for assistance. NeedsList is also partnering with SAP to identify local suppliers through SAP's Ariba catalog, and is partaking in SAP's 1BL social impact initiative. 
The company also hosted d the "Refugees Lead" campaign for Asylum Access, Open Society Foundations, Amnesty International, Oxfam International, and others to highlight refugee-led organizations who are on the frontlines of protecting their communities from the catastrophic impacts of COVID-19.; This campaign raised $70,000 of funds from individuals and institutions for refugee-led initiatives in Kenya, Lebanon, Uganda, Thailand, Malaysia, Colombia, Indonesia, Italy and South Africa.
Covid-19 and its effects:
Like for many other companies, the onset of Covid derailed a lot of the pipeline and conversations NeedsList was having at the time.  Everybody had to stop and refocus. So the immediate short term impact and prospects were tough to manage. But at the same time, it also increased awareness around the importance and relevance of the kind of tools and value that NeedsList offers. As a result, by the end of Q2 2020, NeedsList  had had some productive discussions and had closed a few new license deals. 
However, Natasha Freidus shares that she and her team are absolutely concerned about how things will progress with more needs arising because of wildfires, hurricanes and other such calamities which might be overshadowed because of the Covid crisis.
Products under development :
In a quest for continuous evolution and progress, the company is building a rating system so that once the service is delivered, the recipient of the service can confirm delivery and input any feedback/comments they may have into the system. Another recent feature is the support for knowledge management needs and offers. Organizations canupload the resources/toolkits they are making onto the NeedsList platform and make them available for others to download or use as well.
And the other piece in progress is what NeedsList calls "funding needs" i.e if someone is raising money for a specific project (like a small business in need of a loan) or if a funder wants to put up a tender, all of that can be shared via NeedsList.
The team has also developed a chatbot , which is designed to allow frontline workers to text in their needs so that they don't need a fancy app. But the reality is a lot of the time they're in offline situations and so the connectivity challenge remains.. Hence, NeedsList is now developing an offline mobile app that will sync to their database, when they get back into the office or when they get back online.
A lot of times, due to lack of information and bureaucracy, organisations work in silos rather than together during crisis events causing loss of productivity, personnel inefficiency and most importantly, slow response time. However, technology, through innovation and provision of solutions for governments, NGOs and other aid organisations can play a critical role in crisis situations and getting adequate aid rapidly to people in need. For this to be effective, there is a need for information management and sharing across organisations and countries to facilitate critical decision making at macro, meso and micro level.equally important andover and above the immediate response to crisis, there is a need,  in the medium, long run, to foster socio economic growth of the affected. 
Amarante is keen to see successes of more tech firms such as NeedsList to ensure effective response in times of crisis and building resilience via digital and social inclusion of communities that are victims of crisis and disaster.  

Natasha Freidus, Co-founder and CEO of NeedsList at the 'Creating Hope in Conflict'- A Humanitarian Grand Challenge