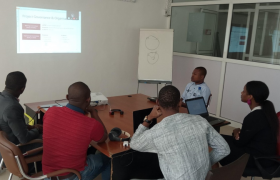 On Tuesday, January 15th, Amarante Consulting held a kick-off meeting with members of the United Nations Capital Development Fund (UNCDF) and GoMedical for the launch of a new project in Benin.
GoMedical is a first-of-its-kind medical application developed in Benin by the company Open SI catering to the population's medical needs. CEO, Gilles KOUNOU, realized that people had to wait for hours in long queues to get an appointment with a doctor and hence, decided to step-in and take action by creating a mobile application which allows people to take an appointment at the nearest clinic or hospital and pay for their services online through various payment methods, including the Mobile Money services of MTN and Moov.
UNCDF selected Amarante, through a competitive process, to support GoMedical in the redeployment of its solution to ensure its wide adoption in Benin. We are really excited to work on this project in the coming months and to contribute to the health sector in Benin by supporting an innovative medical solution like GoMedical.