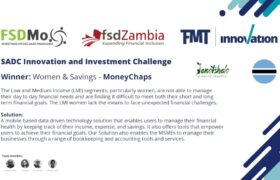 We are proud and humble to see the achievement of a client we have been working with for the past 2 years on defining the right business model to meet his target clientele. It is a product called MoneyChaps. We have helped the product come to shape since its inception and the product has won the SADC innovation and Investment Challenge in the category "Women & Savings".
MoneyChaps is a mobile-based data driven technology solution that enables users to manage their financial health particularly LMI women. For the competition particularly, Amarante provided support to MoneyChaps in their pitch.
Congratulations to the MoneyChaps team and Thabiso its founder once again on their big win!