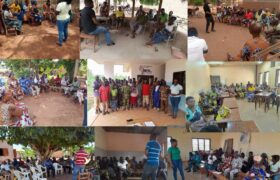 "For English version, scroll down"
Résumé du projet Agriwallet – Filière ananas
Avril 2023
L'Agence belge de développement (Enabel) au Bénin, au travers de son programme "Développement de l'Entreprenariat dans la Filière Ananas (DEFIA)", ambitionne de positionner l'usage des outils numériques au sein de la filière ananas au Bénin.
Le consortium composé par Amarante Consulting et OPEN SI a été choisi pour conduire le projet de mise en place d'un porte-monnaie électronique pour les clusters de la filière ananas, particulièrement les producteurs et entreprises de transformation. C'est "Agriwallet", adossé à des contrats intelligents entre opérateurs, permet aux producteurs :
D'épargner progressivement pour acquérir des intrants ;
De recevoir des paiements numériques ;
D'avoir la possibilité d'accéder à des crédits professionnels et sociaux ;
De recevoir de l'éducation financière et digitale ;
De mieux planifier leur production ;
De commercialiser dans de meilleures conditions leur production.
Grâce à une solution simple à utiliser, inter-opérable et sécurisée.
Les objectifs poursuivis en développant et mettant en place cette solution sont :
Une inclusion financière accrue des producteurs de la filière ananas ;
Un renforcement inclusif et durable des chaînes de valeur ciblées ;
Un renforcement de leur positionnement sur le marché national ;
La professionnalisation et la formalisation des agri-entrepreneurs impliqués (producteurs, transformateurs, fournisseurs d'intrants, etc.) ;
Création d'un environnement favorable au développement des chaînes de valeurs ciblées et à l'innovation.
La solution Agriwallet développée par Amarante Consulting et OPEN SI pour le compte d'Enabel tient compte des modèles d'affaires spécifiques aux différents clusters de la filière ananas et vise à les rendre plus performants. Les principales fonctionnalités embarquées et celles à intégrer à des versions futures de l'application ambitionnent d'apporter des innovations importantes dans l'entreprenariat agricole au Bénin.
Ces fonctionnalités sont listées ci-après :
Déjà embarquées :
Approvisionnement d'un compte Agriwallet par virement bancaire, dépôt d'espèces, transfert de mobile money ;
Retrait d'argent d'un compte Agriwallet via un compte de mobile money ;
Transferts et paiements dans l'écosystème Agriwallet ;
Bulk paiement (virement de masse) pour règlement d'achats de matières premières (ananas) et/ou d'intrants ;
Smart contracts matérialisant les contrats d'achats d'intrants par les producteurs et de matières premières par les agrégateurs/transformateurs.
Fonctionnalités à embarquer dans de prochaines versions :
Intégration des services des Institutions de Microfinance (IMF) et des banques afin de faciliter le processus de demande de financement, le relevé des opérations effectuées par chaque acteur sur la plateforme Agriwallet pouvant justifier des activités du demandeur ;
Au terme de la phase pilote du projet, les résultats ci-après sont attendus :
1500 producteurs d'ananas sont équipés de l'Agriwallet, leur permettant de recevoir ou d'effectuer des paiements digitaux ;
Les agri-entrepreneurs bénéficiaires du projet (producteurs, négociants, exploitants, fournisseurs d'intrants) reçoivent une éducation digitale et financière pour faciliter l'usage et l'appropriation de l'Agriwallet ;
Les agri-entrepreneurs bénéficient des avantages de la solution, avec une augmentation visible des revenus et du bénéfice net, un degré plus élevé d'inclusion financière et une meilleure résilience.
Les résultats positifs obtenus dans la filière ananas pourraient ouvrir la voie à une extension de l'Agriwallet à d'autres filières agricoles au Bénin et dans la sous-région.
—————————————————–
English – Project Summary – Agriwallet Pineapple Sector
The Belgian development agency (Enabel) in Benin, through its Entrepreneurship Development in the Pineapple Sector (DEFIA) program, aims to position the use of digital tools within the pineapple sector in Benin.
The consortium composed of Amarante Consulting and OPEN SI has been chosen to achieve one of the objectives of the DEFIA program, which is to provide cluster and umbrella organization member producers in the pineapple sector with an electronic wallet to:
Save money;
Access inputs;
Access to credit
Receive payments;
Access to financial et digital literacy
Thanks to a simple, interoperable, and secure solution.
The objectives pursued in developing and implementing this solution are:
Inclusive and sustainable strengthening of targeted value chains;
Strengthening their positioning in the national market;
Professionalization and formalization of agri-entrepreneurs involved (producers, processors, input suppliers, etc.);
Enchance a business climate for the development of targeted value chains and innovation.
The Agriwallet solution developed by Amarante Consulting and OPEN SI for Enabel takes into account the specificities of the flows observed within the various clusters of the pineapple sector and aims to digitize them. The main embedded functionalities and those to be integrated into future versions of the application aim to bring significant innovations to agricultural entrepreneurship in Benin.
These functionalities are listed below:
Already embedded:
Agriwallet account replenishment via bank transfer, cash deposit, mobile money transfer;
Withdrawal of money from an Agriwallet account via a mobile money account;
Transfers and payments in the Agriwallet ecosystem;
Bulk payment (mass transfer) for settlement of purchases of raw materials (pineapples) and/or inputs;
Smart contracts materializing input purchase contracts by producers and raw material purchase contracts by aggregators/processors.
Functionalities to be embedded in future versions:
Integration of Microfinance Institutions (MFIs) and banks' services to facilitate the financing request process, with records of each actor's operations carried out on the Agriwallet platform, which can justify the applicant's activities.
At the end of this pilote, the following results are expected:
1500 pineapple smallholders are using Agriwallet, allowing them to receive or make digital payments;
Beneficiary agri-entrepreneurs of the project (smallholders, agrodealers, input suppliers) receive digital and financial education to facilitate the use and ownership of Agriwallet;
Agro-entrepreneurs benefit from the advantages of the solution, with a visible increase in income and net profit, a higher degree of financial inclusion, and better resilience.
The positive results obtained in the pineapple sector could pave the way for an extension of Agriwallet to other agricultural sectors in Benin and the sub-region.