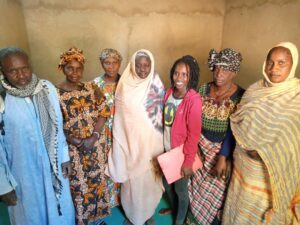 From January to December 2022, Amarante Consulting conducted a study on behalf of UN Women and monitored the implementation of a solution to finance the risks associated with unpaid care work for women in the Saint Louis region of northern Senegal.
Unpaid care work is the set of activities performed by women for the maintenance of their home, family and/or community for which they receive no wages or remuneration. The time spent on these care activities is time that women cannot spend on income-generating activities.
Phase 1 of this project consisted of a market and pre-feasibility study that brought our team of consultants closer to these Senegalese women in order to identify their needs and collect their expectations in order to propose the most appropriate solution to solve the problems related to the execution of these unpaid tasks. We also analyzed the Senegalese ecosystem of digital solution providers that could address the issue of reducing the risks associated with unpaid care work. 
At the end of this first phase, the Amarante Consulting team identified and ranked several solutions, including the health insurance offer provided by the Universal Health Coverage Agency (CMU).
During phase 2, Amarante Consulting helped the stakeholders adapt the CMU health insurance solution so that its characteristics would best meet the means and expectations of the future beneficiaries of the REFAN network (Réseau des Femmes Agricultrices du Nord). A pilot phase has been launched and has been accepted by the targets, with the enrolment of approximately 1,300 women from the REFAN network and almost 5,500 of their beneficiaries, bringing the total number of insured to almost 6,800 by February 20, 2023, exceeding the promoters' expectations.
Thanks to a reduced premium of 2,500 francs per year per insured person, the subsidy granted by UN Women to finance the premiums for the first year, the advocacy carried out with local authorities and the contribution program recommended by Amarante Consulting, this health insurance will help reduce the health expenses of women farmers, agricultural product processors and traders (as well as members of their households: children, spouses, parents and elderly and/or sick relatives) in the departments of Saint Louis, Dagana and Podor. The reduction of these costs will also allow them to allocate more resources and time to their income-generating activities and will contribute to improving the living conditions of the beneficiaries and their families through the development of these activities.