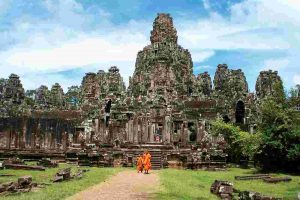 Country: Cambodia
Region: South-East Asia
Type of Client: Microfinance Bank
Year: February 2016-August 2016
Country Information
Cambodia borders the Gulf of Thailand situated between Thailand, Vietnam and Laos in South East Asia. The population stands at 16,449,519 as of July 2018. Cambodia has experienced strong economic growth over the last decade; GDP grew at an average annual rate of over 8% between 2000 and 2010 and about 7% since 2011. More than 50% of the population under the age of 25 are with high adoption rate of technology and 4.5 million mobile users are connected to Facebook. The progress of next-generation technology provides a more level playing field for FinTechs allowing them to work around inflexible legacy systems and "silo-ed" channels. This has lowered barriers to entry. The cost advantage is on the FinTech side. WING Limited Specialized Bank (WING) provides an easy way for all segments of the population to make payments out of its exclusive WING Cash X-Press agents, using POS devices. An interesting trend in Cambodia is the transition from offering traditional microfinance to digital financial products and services that for example ACLEDA Bank follows.
Project Information
Amarante won a public tender to assist the client in assessing its current agent banking network and to recommend a future strategy based on a 5-year plan to improve performance and expand its agent network including focusing on how to increase deposit mobilisation via the agent network channel.
Project/Services We Provided
Desktop research and on-site observations on product and service expansion for the MFI in light of client segments was done. Amarante also assisted in building and administering agent and customer study methodology and questionnaires. This also included on-field observations as well as analyzing the data and reporting on the findings. Secondly, we helped in analysing: 1) the system and report-based study of agent transactions, 2) savings and deposit mobilization via the agents and finally, reported on their impact on funding cost. Amarante teams also assessed and provided strategic recommendations for improvement along with an opportunity sizing of identified potential products and services. The assignment concluded upon the delivery of a comprehensive business case that calculated investments, revenue sources and costs buckets for a 5 year agent improvement and expansion strategy for increased client acquisition, increased agent activity and increases deposit mobilisation.