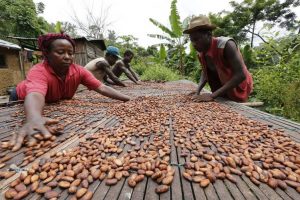 Country: Côte d'Ivoire
Region: Sub-Saharan Africa
Type of Client: International Organisation
Year: March-September 2018
Country Information
Côte d'Ivoire, is a Western African country bordering the North Atlantic Ocean, between Ghana and Liberia. The population of the country is 26,260,582 as per July 2018 estimates. For the last 5 years Cote d'Ivoire's growth rate has been among the highest in the world. Côte d'Ivoire's progress has been driven entirely by mobile money. From 2014 to 2017, access to financial institution accounts stagnated at 15 percent according to Findex. Yet the share of adults with a mobile money account rose by at least 40 percent. Between 34 and 38 percent of the adult population had a mobile money account in 2017 — the highest rate in the West African Economy and Monetary Union. As a result, most Ivorians who access formal financial services today do so via mobile money.
Project Information
As an entry point to farmers' financial inclusion, the client designed a project with the objective of digitizing cocoa farmers' premium quarterly payments for certified sustainable cocoa in Côte d'Ivoire. The objective was to plan and execute field activities related to cocoa cooperatives and farmers' mobile money accounts opening, training, and usage, in collaboration with project partners such as Cargill and IFC.
Project/Services We Provided
We helped in supporting the delivery of the following work streams:
Creating awareness around the new payment channel through marketing and communication activities geared towards Cocoa cooperatives and their member farmers
Supporting the enrolment of cooperatives and farmers in the digital payment project
Training cooperatives' staff and their farmers on the new digital (mobile) payment channel, processes and functioning
Following up and provide after-sales services to cooperatives enrolled in the digital payment project
Supporting the test pilot roll-out and execution
Reporting on the project execution progress
Workshop on challenges faced on the field and recommendations to overcome them and improve uptake of the mobile as payment receipt channel for the cocoa farmers.