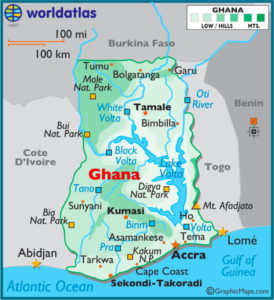 Country: Ghana
Region: Africa
Client: Ghana Insurance
Type of Client: International Organisation
Year: May 2015 — September 2015
Country Information
Ghana is a country in Western Africa bordering the Gulf of Guinea between Cote d'Ivoire and Togo. Ghana has a young age structure, with approximately 57% of the population under the age of 25. Agriculture accounts for about 20% of GDP and employs more than half of the workforce, mainly small landholders. As of 2016, key economic concerns facing the government included the lack of reliable electricity and the high debt burden, even amid strong GDP growth. The GDP of Ghana was 47.33 billion US dollars in 2017. Literacy rate stands at 76.6%.
Project Information
The objective of the project involved assessing and documenting the primary and potential risk that may affect the delivery of products in the mobile insurance value chain in Ghana. In addition, it included providing guidance to regulate such products. The assessment of risk levels of m-insurance in Ghana will identify the various consumer protection risk levels associated with the delivery of m-insurance along the value chain. At the same time, it will provide the insurance and telecommunication regulators with recommendations to manage potential risk to consumers arising from m-insurance products.
Project/Services Provided
The main objective of the project was to assess and document the primary and potential risks that may affect the delivery of products in the mobile insurance value chain in Ghana as well as provide guidance to regulate such products. The services provided by us included inter alia:
Study on mobile insurance landscape in Ghana (models and products, legal analysis, identifying challenges): delivering an M-insurance landscape report and methodology
Stakeholder interviews in the different jurisdictions to assess the risk associated with their systems and processes, including interviews with regulators and policymakers (NIC, NCA, BoG, and MoF), Mobile Network Operators, Insurers, Technical Service Providers and Payment platform operators, investigating the different processes and practices in the m-insurance delivery.
Assessment of the risk of the Ghanaian m-insurance market using risk framework and detailed case study.
Workshop with stakeholders to validate findings of the assessment.
Assessment report on mobile insurance in Ghana.