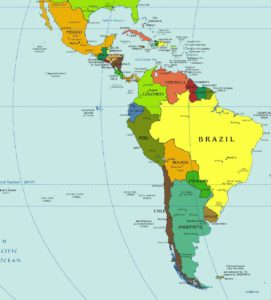 Country: Multi-country
Region: Latin America
Type of Client: A Global Development Financial Institution
Year: January 2011 — December 2012
Region Information
Latin America consists of nineteen sovereign states and several territories and dependencies which cover an area that stretches from the northern border of Mexico to the southern tip of South America, including the Caribbean. As of 2018, its population was estimated at more than 652 million. Latin America is the region with the highest levels of income inequality in the world. The GDP of the region in 2016 was USD 5.3 Trillion. The literacy rate stood at 94% for the region in 2016.
Project Information
The client organisation was committed to advancing financial inclusion in LAC (Latin America and the Caribbean) by supporting private players (MFIs, Banks…) with their Mobile Financial Services plans targeting the unbanked, through select technical assistance focusing on the development of agent and mobile-based approaches combined with product innovation.
Project/Services We Provided
Full scope was delivered by Amarante staff. We performed market scoping of 11 countries (including Peru) across the region and developed the client's regional mobile money approach in each market.
Business development: We assisted the client in identifying and supporting mobile financial services projects across the region and also organised knowledge sharing activities such as workshops, seminars and so on. A scoping grid was used to evaluate priority markets, the main criteria for choosing priority markets. One on one interviews were organized with institutions and central banks and onsite evaluation of the distribution network (visit of potential agents and evaluation of readiness) was done.