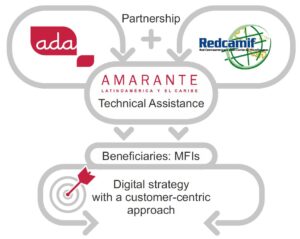 In the framework of the programme "Improving the added value of microfinance" (2018 to 2021), ADA and REDCAMIF launched, in September 2018, a digital transformation programme  for microfinance institutions (MFIs) affiliated to REDCAMIF. The three-year programme was implemented with the technical support of the consulting firm Amarante Consulting, which has a vast experience in the field and is a leading service provider the region.
In total, 7 MFIs were supported in defining and implementing a digital transformation strategy based on a client-centric methodology: FAFIDESS (Guatemala); Hermandad, Banco Popular and ODEF Financiera (Honduras); Banco Ademi (Dominican Republic); SAC Integral (El Salvador); and Banco Delta (Panama).
In parallel, within the framework of the Covid-19 pandemic response programme, ADA and REDCAMIF supported 7 other MFIs in immediately addressing the crisis with digital projects: FUSAI and Credicampo (El Salvador); FUDEMI (Nicaragua); Vision Fund (Guatemala); Finsol and ADRA (Honduras); and CDD (Dominican Republic).
The following document describes Amarante Consulting's methodology, the projects implementing digital solutions at the different MFIs, as well as the main conclusions and recommendations following the completion of the three-year programme.