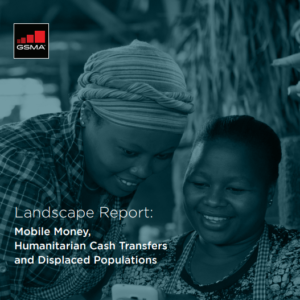 Landscape Report: Mobile Money, Humanitarian Cash Transfers and Displaced Populations. GSMA Disaster Recovery contracted Amarante to conduct primary and secondary research on select priority countries in order to study the use of mobile money and digital channels in transferring humanitarian cash for aid. Amarante conducted this research in Rwanda, Pakistan and Haiti (primary countries) and Uganda, Jordan, Iraq and Afghanistan (secondary countries). Amarante mobilized country experts for this research and all interviews, questionnaires, focus groups were administered by our team.
The study not only focused on the displaced population as the beneficiaries of the digital cash aid but also considered other use cases that refugees were making of their mobile money accounts (receiving remittance from family for example). Agent perspective was also a core focus of the research and how these programs were building resilience (some refugees also were mobile money agents and built a business and a better standard of living for themselves). The research of course also covered humanitarian organizations and MNO perspectives and what they stand to gain from well deployed and managed digital cash for aid programs.
Full report available here.