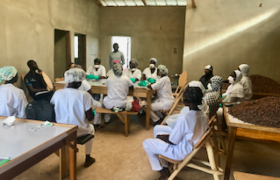 Version française disponible ici
Cocoa is now called as the "gold" of Ivory Coast as it holds the prestigious position of the most coveted raw material that the country produces. However, at the local level, the country deals with various issues such as cocoa tree diseases; massive deforestation; child labor in cocoa plantations; and not much improvement in income for farmers and their families. Some of these issues are managed with better success than others. In November 2018, Amarante had the opportunity to assist an Ivorian financial services provider in building their financial inclusion strategy for cocoa, cashew, cotton, oil palm and rubber farmers, with the core aim of facilitating access to financial services, especially savings products. One particularity of the agricultural sector is that small farmers and cooperatives, who are at the start of the value chain, find themselves rather are far from financial access points, since their farms are in rural, remote areas. Another challenge they face is the seasonal nature of their activity and harvests, making it challenging for farmers to manage their income to provide for expenses throughout the year.
This issue of constant income/expense juggling in order to meet not only the current needs of the families, but also unforeseen events such as sickness or death, led us to look into the case of women: What is the role of the wives of cocoa farmers in rural and community development? Are they constrained to be mere labour force in the plantations, limited to pick up and empty the pods? How do they contribute to their household income?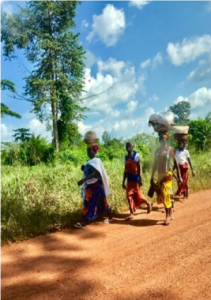 A meeting with them shed light on these issues.
Our consultants were in Fadiegnan, a village near Abengourou, in eastern Ivory Coast. They visited a craft processing unit for cocoa beans, started towards the end of 2017, by Axel-Emmanuel Gbaou, an Ivorian chocolatier, who had already trained hundreds of rural women in the art of cocoa transformation. The Fadiegnan unit is managed in collaboration with the CAMAYE cooperative, which also markets part of the processed products.
The production unit is open 4 days a week and employs about 100 women (all farmers' wives), divided into 2 groups: the first group works on Mondays and Tuesdays and second group on Wednesdays and Thursdays. It is closed on Friday, the day of prayer. The women first had a four-month training session which taught them chocolate cake production, and then a second training of six months taught them processing techniques: Weighing, roasting, sorting and selection of good beans, and finally the shelling.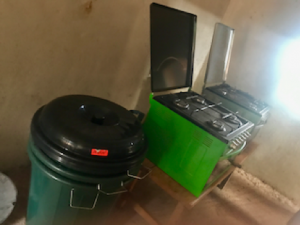 Part of the shelled beans are delivered to the CAMAYE cooperative for processing into cocoa powder, chocolate chips or ready-to-eat chocolate bars. Another part is kept in the unit for on-the-spot manufacturing of cocoa butter: One plunges crushed cocoa paste into boiling water, cooks the mixture over low heat and when the butter is released on the surface, it is taken out to be put in the freezer.
These women are paid 500 CFA Francs (about US$ 0.87) per kilo of sorted and shelled beans. The daily production of shelled beans in the unit is estimated at 140 kg, which means just over 1 ton per month.
For now, the benefits for women are not yet visibly significant. However, the creation of the processing unit provided them with a job: "It gave us work in the village and we can take care of our children at the same time," says Odette, one of the women present on the day of our visit, bright and early at 7:30 in the morning. "It allows us to help our husbands and improve our income in addition to being able to cultivate and sell tomatoes, cabbages …" says another woman in the group.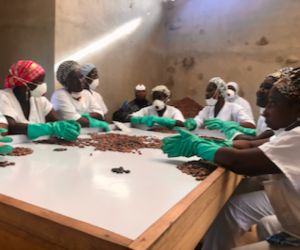 In any case, although they "do not have many resources", these women want to "keep moving forward". They say this work at the unit can even help them save a little. To improve the standard of living of their families, they think they can apply for a bank loanupto an amount that is equal to their savings. And even if most of them have a mobile money account on the phone, they find "savings on mobile money not interesting because (…) earn no interest", unlike in a bank.
These few testimonies show the will of women, determined to improve their standard of living. Increasingly, they have the ambition to send their children to school and to save for their future. Financial service providers, on their part, are striving to improve financial inclusion amongst farmers in general, and their wives in particular: Making them aware of the need to save during harvesting seasons and to cover all their needs before next harvests.  Axel-Emmanuel and the women of this village show the path for Ivory Coast to follow: To ensure more and more local production in order to improve the earnings and living standards of villagers. The story of these women in Fadiegnan stands as an inspiration for all their Ivorian sisters