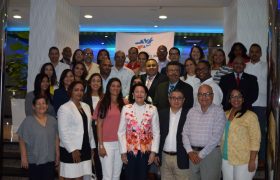 Our Senior Associate Consultant, Raul Gomez Velasquez, was in the Dominican Republic in May to facilitate a Digital Finance Awareness Seminar for Senior Management and Board of Directors of various local microfinance institutions (MFIs). More than 40 MFIs participated in the seminar with whom we shared the latest trends in the digital finance industry. We also had a dialogue on how digital finance could provide access to financial services to segments of the population who are un(der)served by the traditional banking sector. Additionally, we presented case studies of projects where Amarante Consulting was involved in the design and implementation of strategies of digital finance strategies.
_______________________________________________________________________
Nuestro Consultor Sénior Asociado, Raul Gomez Velasquez, estuvo en la República Dominicana el pasado mes de mayo como facilitador principal en el Seminario de Sensibilización en Finanzas Digitales para la Alta Dirección y los Directorios de IMFs. Participaron más de 40 instituciones de  microfinanzas, a quienes se les compartió las últimas tendencias en el tema de transformación digital para brindar acceso a los servicios financieros a los segmentos de la población sub/no atendidos por la banca tradicional. Así mismo, se presentaron casos de estudio donde Amarante Consulting ha participado en el diseño e implementación de estrategias para la digitalización de las instituciones financieras y los servicios a los clientes.